Deer Deterrents.
Farmers and gardeners alike have tried many methods to keep deer from munching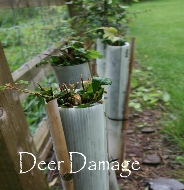 away at crops and rose beds. Lion dug, human hair and scented soap to name a few but none seems to have been very successful. The problem is that deer are very adaptable and resilient, they may be initially wary of a flapping plastic bag or creosote soaked rag but they will soon disregard it.
The only solution is a physical barrier in the form of a deer proof fence and tree guards. The fence height will depend on the local species of deer and be constructed in the correct manner. Its no good just adding a few extra strands of wire above a standard field fence, this will just result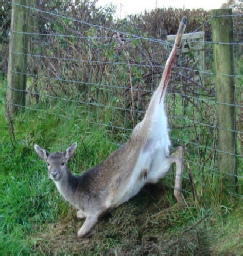 in injury and suffering for entangled deer.
RECOMMENDED PLANTING IDEAS.
There isn't such thing as a deer proof plant, if the local food source is low then most of the garden is on the menu. Don't be fooled by planting plants that have their own defences as thorny plants like holly and roses are a particular delicacy to deer. . The list of plants below are a few that are known to be of a dislike to deer, but of course there is no guarantee that they won't be eaten.
ACHILLEA, ASTILBE, AJUGA, BAMBOO, BUDDLEJA, AMELANCHIER, BUXUS, BERBERIS, CAMELLIA, CAMPANULA, CEANOTHUS, CHOISYA, CISTUS, DAPHNE, DICENTRA, ECHINACEA, HELLEBORE, HEMEROCALLIS, HOSTAS, KOLKWITZIA, LAVENDULA, NEPETA, MARIGOLD, PEROVSKI, RHODODENDRON, SEDUM, SPIREA
It is important that the local deer population is managed in such away that their natural environment can provide them with the food that they need. Correct management and the right type of fencing will ensure that the deer can live in harmony with their surrounding neighbours.
Wild Boar
Wild boar can do a lot of damage in a short amount of time with their powerful snouts. In just one night a football pitch size piece of grass can look as if it has been rotovated. Lion dung and coconut leaves have been mentioned as deterrents but are not a serious option in the UK. Exclusion is the only answer, a well constructed pig wire fence 1 metre high with mesh 75mm x 75mm of a strong construction will suffice . It doesn't need to be any more than 1 metre high as pigs do not jump as high as deer but they do dig so the fence needs to be dug in by at least 30cms with a strand of barbed wire at ground level and two inches below.
I CAN OFFER A DEER/BOAR FENCING SERVICE & PLANTING ADVICE.